AGRF 2022 shifts discourse from "a green revolution" to food systems
GIANT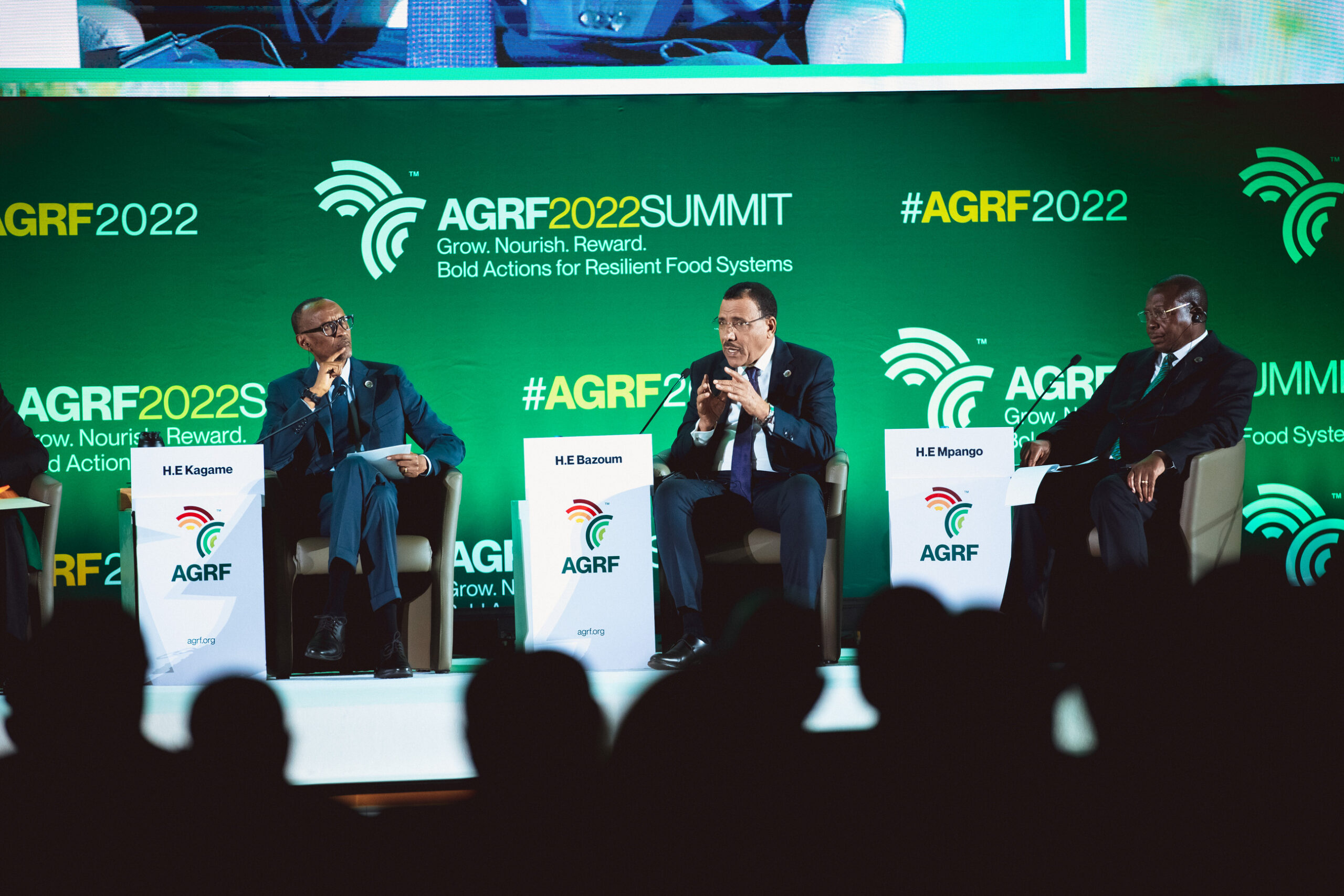 The theme of the Summit also captured the need to nourish innovations and cultivate country solutions across Africa
KIGALI, RWANDA: One of the world's leading forum for African agriculture, the AGRF Summit (2022) was held from September 5 to 9 in Rwanda's capital, Kigali. The AGRF brings together stakeholders in the agricultural landscape to take practical actions and share lessons move African agriculture forward. Speaking at the opening session, Rwanda's Prime Minister, the Right Honorable Dr. Édouard Ngirente, appealed for collaboration between Africa's different stakeholders in fast-tracking Africa's food system transformation.
Under the theme Grow. Nourish. Reward – Bold Actions for Resilient Food Systems, participants, including heads of state, ministers of agriculture, leaders of development organizations, the scientific community, and private sector investors, engaged in conversation and deals intended at driving an inclusive and sustainable agricultural transformation in Africa.
H.E. Hailemariam Dessalegn, the former Prime Minister of Ethiopia and current board chair of the Alliance for a Green Revolution in Africa (AGRA), reiterated that Africa's future wellbeing is dependent on today's actions.
On her part, Rwanda's agriculture minister Hon. Gerardine Mukeshimana noted: "We need to come up with actionable plans to get us out of the present crises, but also to develop our resilience for future survival."
As part of the activities to drive the requisite food transformation, African countries were urged to invest in innovation technology, with Gambia's agriculture Minister Hon. Dr. Demba Sally singling out investments in post-harvest handling as urgent.
AGRA President Dr. Agnes Kalibata, noted that more areas of investment are contained in the food system pathways that countries committed to at the 2021 UN Food Systems Summit in New York.
Grow, Nourish, Reward – Bold Actions for Resilient Food Systems
The theme of the Summit Nourish. Reward. Bold actions for resilient food systems was chosen to highlight the priority to translate the AGRF 2021 Summit commitments into actionable strategies and true progress for Africa's agricultural and food systems. The theme calls for the growth of coordinated and large-scale action by stakeholders across multiple sectors, by mobilizing private and public investments to strengthen small and medium-sized businesses, youth entrepreneurship, and access to markets for smallholder farmers. The theme also captured the need to nourish innovations and cultivate country solutions across a continent.
Presidential Summit – Advancing pathways for people, planet and prosperity
The Presidential Summit was the highest-level moment of the AGRF, with Heads of State & Government, eminent persons, and hundreds of leaders and stakeholders present from across Africa's agriculture and agribusiness sector.
The Presidential Summit was graced by the President of Rwanda, H.E Paul Kagame. In a key note speech, President Kagame thanked his colleagues across the continent noting: "We need to develop a sense of urgency… see where we fell short and try and correct what we can, as fast as we can so we don't have to repeat the mistakes or shortcomings.
H.E. President Emmerson Mnangagwa of Zimbabwe talked of bold actions adopted by his country in the midst of the Ukraine crisis. "In the midst of the crisis Zimbabwe built its food resilience. In the past, we used to grow three months' supply of wheat. Today we can grow thirteen months' worth of wheat," he boasted. "We are now producing excess wheat. Ukraine crisis does not affect us."
H.E. Dr. Philip Mpango, Vice-President, Tanzania talked about increased investment in fertilizer factories to offset some of the issues around supply chain, investment in irrigation technologies for enhanced self-sufficiency and create jobs.
Regarding the CoP 27, to be held in Egypt, President Mnangagwa said: "There is a willingness to embrace green technology and clean technology but we must be given the time to transition away from thermal energy towards clean energy. We will go to COP27 saying we must be given the space to transition, but if they want us to leapfrog to their position they must be willing to pay'.
H.E. Amina Mohammed, Deputy Secretary-General, UN spoke of the need to prevent stalling and making progress to ensure that food poverty is a thing of the past.
Rt. Hon Patricia Scotland QC, Secretary-General, Commonwealth Secretariat said, "Africa has the potential to feed itself. If we can make a joint commitment, we can be the difference we want to see in the world."
Africa Agriculture Status Report (AASR) Launch
This year's Africa Agriculture Status report was unveiled on 7th September, 2021 with a focus on building sustainable and resilient agri-food systems, technology, job creation, market opportunities, global sustainability, enhancing nutritional quality of food products and re-greening Africa through ecosystem restoration.
The Africa Agriculture Status report (ASSR 2021) was launched by Dr. Agnes Kalibata, President, Alliance for a Green Revolution in Africa (AGRA), echoing the important of nutritious food. "Nutrition is one of our biggest challenges. There's no continent better placed to feed its people the right food, but we just don't know where to start when it comes to healthy eating. It's impacting everyone, it's costing us dollars."
Plenary – Council of the Wise
The Council of the Wise and Elders session brought together some of the foremost African leaders and former Heads of State and Government. The Council is a vision of continuous engagement of leaders across the year. The wise men indeed spoke as captured below: H.E. Hailemariam Desalegn, Chair, AGRF Partners Group and Former Prime Minister, Ethiopia challenged his colleagues to share insights that address the challenges that smallholder farmers face. H.E. Ibrahim Hassane Mayaki, Former Prime Minister, Niger said, "Lack of political will rather than technical issues is the real obstacle to progress. The technical tools exist. The improvement needs to come from governance.' H.E. Lionel Zinsou, Former Prime Minister, Benin highlighted the growth Benin had accomplished in the last half a decade.
Farmers Forum: Leaders in dialogue with African Farmers
A special session was held to ensure that farmers voices are heard. A tribute was paid to the farmers for overcoming numerous challenges including COVID-19, locusts, drought, floods, and market issues in the last few years. Framers organisations were put on the spot to ensure they are true voices of their members. Ms. Elizabeth Nsimadala, President, Eastern Africa Farmers Federation (EAFF) talked about the plight of smallholder farmers and frustration about how their lobbying work would stall due to politicians not acting as swiftly as they ought to.
'If we want to move smallholders from subsistence farming we need to cultivate business skills and offer technological support' these stages are absolutely necessary to ensure smallholders and women specifically can thrive and be marketable in this industry," she noted.
Cassava value addition entrepreneur named Woman Agripreneur of the Year
Oluyemisi Iranloye, the managing director of Psaltry International, a Nigerian agro-processing company that refines cassava into starch for consumer products like toothpaste, was declared the winner of the 2022 VALUE4HER Women Agripreneurs of the Year Awards (WAYA). Ms. Iranloye, whose company reaches more than 100,000 people by working with smallholder farmers, was feted during the First Ladies Special Event of the AGRF Summit in Kigali Rwanda. The session was attended by H.E. Jeannette Kagame, the first lady of Rwanda, Rebecca Akufo-Addo, the first lady of Ghana, Roman Tesfaye, the former first lady of Ethiopia, and H.E. Josefa Sacko, the African Union's Commissioner for Agriculture, Rural Development, Blue Economy and Sustainable Environment.
Accelerating Climate Action through Food Systems
This session sought to explore what could be done to mitigate the risks of climate change through policies, action and investment. The session discussed issues including profiling the risks Africa will be better prepared to tackle; tapping into scientific communities for Earth positive solutions; reaching out to philanthropic institutions for financing; embracing new seeds systems; engagement with green finance and development investment.
Youth in the limelight
Policy makers, NGO leaders, business leaders and young entrepreneurs came together to provide a platform for young people to articulate their issues, challenges and aspirations within the agri-food space and to pose their questions to those leading the charge. Some of the issues discussed during the youth session included the difficulty in getting access to Africa's governments; appropriate agribusiness funding and technology; unfair competition in markets where global imports account for a huge proportion of the country's food; education and marketing around nutrition. A key message that was passed was "Africa has no future if its future is not about investing in young people." African were urgent to insist on this mission to feed itself.