ASARECA and partners commit to address specific needs and priorities of women and youth
GIANT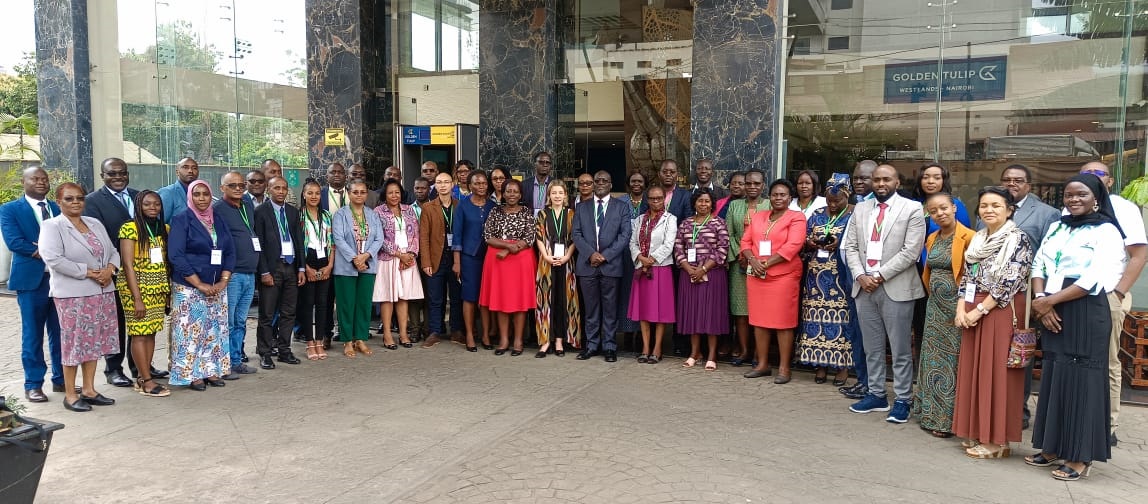 BEN MOSES ILAKUT
The Dialogue is organized under the auspices of the Accelerating Impacts of CGIAR Climate Research for Africa (AICCRA) Project
NAIROBI, KENYA—ASARECA and partners have committed to address specific needs, priorities and realities of women, men, and the youth while formulating Climate Smart Agriculture (CSA) policies.
Speaking during the opening of a four-day Policy Dialogue on Promoting Gender and Climate Responsiveness in Agricultural Policy Formulation and Implementation on August 28, 2023 at Golden Tulip Westlands Nairobi Hotel, Kenya, ASARECA Executive Director, Dr. Enock Warinda said ASARECA will fast track implementation of recommended policies, laws, regulations, standards, and procedures in Member States.
Onboarding critical partners
The Dialogue is organized under the auspices of the Accelerating Impacts of CGIAR Climate Research for Africa (AICCRA) Project and will run from August 28 to 31, 2023. The initiative is jointly funded by the World Bank through CIAT, the CGIAR's Ukama Ustawi Initiative on Diversification for Resilient Agri-food Systems in East and Southern Africa, and the European Union through IFAD under the CAADP-XP4 Programme.
Breakdown of event segments
According to the event programme, the first day was committed to validating the Refreshed ASARECA Gender Policy and Implementation Plan following protracted interviews and surveys conducted among stakeholders in the National Agricultural Research Systems (NARS) covering mainly the National Agricultural Research Institutes (NARIs) and the Agriculture Ministries.
Day 2 was dedicated to discussing policy implications in promoting inclusive and climate resilient agri-food systems transformation and trade. The discussions identified regional policy gaps in implementing climate resilient transformation of maize-mixed agri-food systems, value chain development, and trade in Eastern Africa. This segment was arranged in collaboration with the CGIAR's Ukama Ustawi Initiative on Diversification for Resilient Agri-food Systems in East and Southern Africa. Dr. Warinda noted that solutions and lessons learnt from the maize value chains will be packaged appropriately and replicated in all other major value chains in the 15 ASARECA Member Countries.
The third day is expected to focus on validating the ASARECA Customized Policy Index Tools through which ASARECA plans to periodically collect data, analyze diverse policies, and take stock of changes in Agricultural Research for Development (AR4D) to inform the national and regional policy formulation and improvement processes.
On the fourth day, participants will delve into discussion of findings of policy studies that ASARECA has undertaken in the recent past. These studies focus on understanding the status of policies, laws, regulations, standards and guidelines previously supported by ASARECA as well as the status and positions of Member Countries on Genetically Modified Organisms (GMOs). "As your sub-regional organization, we need to know the policy status in any area of research in the countries at any one time," Dr. Warinda told participants.
Why the Dialogue?
Climate change remains a major challenge to agricultural production in Eastern and Central Africa (ECA), especially through prolonged droughts, delayed onset of rains, floods and emergence of new pests and diseases, among others. These challenges mostly affect women who comprise majority of smallholder farmers in ECA. While adoption of CSA technologies and innovations is critical in adapting to climate change, women and youth are not accessing the technologies to the same extent as men. This is mainly attributed to underlying gender norms and limited access to resources, information and control over labour allocation.
A rich history of gender transformation
ASARECA's commitment to advancing gender equality within its research agenda has a rich history, spanning several significant milestones. This journey began in 2001, when the organization received support from the Canadian International Development Research Centre (IDRC). During the period (2001 to 2004), ASARECA conducted participatory research and gender analysis, which laid the foundation for a more inclusive and gender-responsive approach to agricultural research.
Engendered capacity strengthening
Building on this initial work, from 2004 to 2007, ASARECA focused on building capacity in Gender Analysis and Mainstreaming in the NARIs under its umbrella, culminating into the establishment of a dedicated gender focal person in each country in 2009. In 2011, ASARECA developed a comprehensive Gender Mainstreaming Strategy (2011-2015), which guided systematic integration of gender perspectives into its programs and processes. Within this period, ASARECA establishment the Gender Mainstreaming Unit at the Secretariat, which subsequently developed the Gender Policy (2014-2018), geared towards achieving the overarching goal of gender equality in AR4D in the ECA sub-region.
Adapting to current trends
In light of evolving regional priorities and global challenges, ASARECA continues to adapt and reinforce its commitment to gender mainstreaming. As part of this ongoing commitment, a refreshed Gender Policy is being developed to provide essential guidance for ASARECA Secretariat, the NARS and partners on how to integrate gender perspectives effectively into their research and development initiatives and within the organizations' day-to-day work.
Global and Regional Commitments:
ASARECA's commitment to gender equality is deeply rooted in its governance, operations and management documents, which define the extent to which gender can be explored and integrated in the sub-region. The commitment is enshrined in global and international agreements which have been signed and ratified by a significant number of countries, like the Convention on the Elimination of All Forms of Discrimination Against Women (CEDAW) and have also embraced regional frameworks such as the African Union's Agenda 2063. These agreements and frameworks emphasize the importance of gender equality and the empowerment of women.
About ASARECA
The Association for Strengthening Agricultural Research in Eastern and Central Africa (ASARECA) is an intergovernmental sub-regional organization of the National Agriculture Research Systems of fifteen countries namely: Burundi, Cameroun, Central African Republic, Democratic Republic of Congo, Eritrea, Ethiopia, Kenya, Madagascar, Republic of Congo, Rwanda, Somalia, Sudan, South Sudan, Tanzania and Uganda. ASARECA is mandated to coordinate and convene human, physical, financial and institutional capital to implement Agricultural Research for Development (AR4D) initiatives in Eastern and Central Africa (ECA).
Date Published: Thursday, 07 September 2023