ASARECA Executive Director meets Madagascar Agriculture Minister
GIANT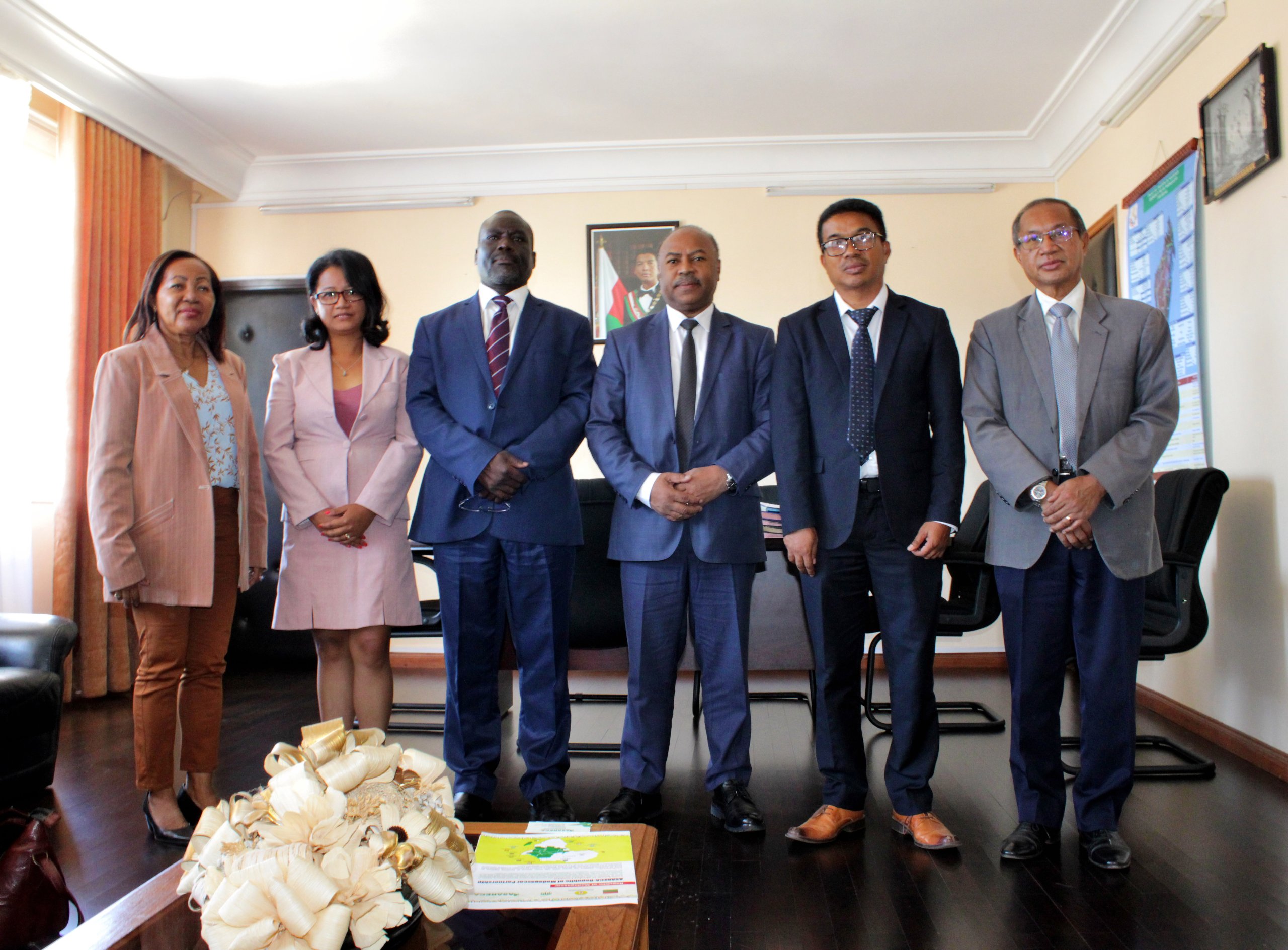 Dr. Warinda briefed the Minister on developments in ASARECA member countries in general, and in particular, about initiatives at the ASARECA Secretariat
By Ben Moses Ilakut and Ramaroson Vonimihaingo
ASARECA Executive Director, Dr. Enock Warinda, on Wednesday February 15, 2023 held discussions with the Minister of Agriculture and Livestock, the Republic of Madagascar, Harifidy Ramilison, at the Ministers office in Antananarivo, Madagascar.
Accompanied by the Director General Centre National de Recherche Appliquée au Développement Rural (FOFIFA/CENRADERU), Prof. Dr. Razafinjara Aimé Lala, Dr. Warinda briefed the Minister on developments in ASARECA member countries in general, and in particular, about initiatives at the ASARECA Secretariat. They also discussed sustainable financing of the Association and its Secretariat in Entebbe, among other things.
Before the meeting, Dr. Warinda held discussions with over 20 staff of FOFIFA at the NARI offices. During discussions, the staff briefed Dr. Warinda on the ongoing research initiatives at the NARI, while Dr. Warinda appraised the staff on the ongoing joint regional initiatives where Madagascar participates alongside other 13 NARIs in Eastern and Central Africa.
Since inception in 1994, ASARECA has worked with the National Agricultural Research Systems (NARS) of its 14 member countries: Burundi, Cameroon, Central African Republic, Democratic Republic of Congo, Eritrea, Ethiopia, Kenya, Madagascar, Republic of the Congo, Rwanda, South Sudan, Sudan, Tanzania and Uganda to implement agricultural research for development (AR4D) initiatives. Between 1994 and 2023, ASARECA has mobilized US$ 256 million to implement AR4D initiatives in the member countries.
In Madagascar, ASARECA is working mainly with Centre National de Recherche Appliquée au Développement Rural (FOFIFA/CENRADERU) and the Ministry of Agriculture and Livestock to jointly address AR4D challenges.
Between 1994 and 2023, ASARECA has invested US$ 3.1 million to catalyze agricultural transformation in Madagascar through key beneficiary projects such as promoting pearl millet varieties and innovations; controlling tick-borne diseases; dissemination of clean planting materials; and mitigating the effects of climate change, to mention but a few.