Desert Locust Invasion Update : 20 February 2020
GIANT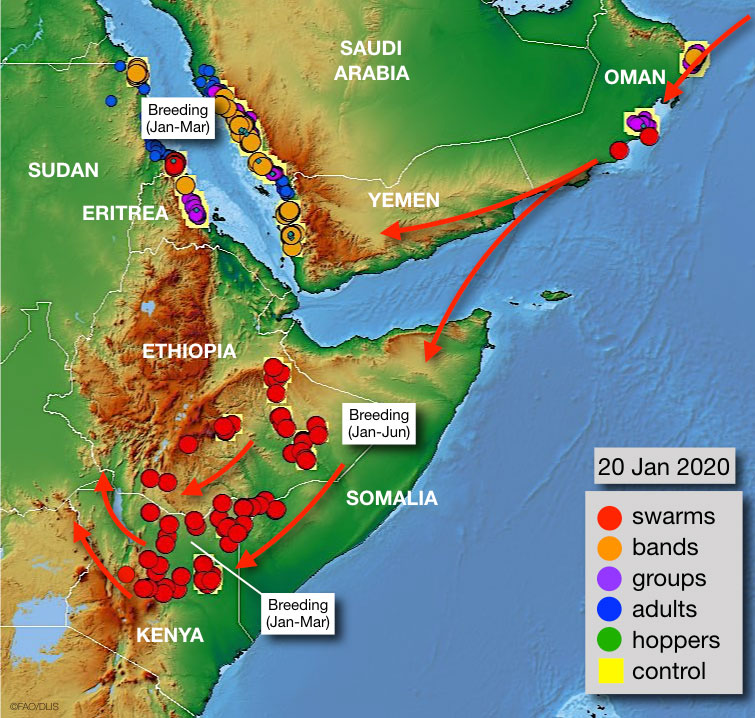 Over 2,000 locusts have swarmed into South Sudan. The locusts crossed into southern Magwi county, on the border with Uganda.
Scientists have said that their deep yellow color indicate that the locusts are mature and looking for breeding grounds that would form the basis of the next major infestation.
The soil in South Sudan's Eastern Equatoria has a sandy nature that allows the locusts to lay eggs easily,
South Sudan Agriculture Minister Onyoti Adigo Nyikuac said the government was training people to spray.
During each three-month breeding cycle, a single locust can breed 20 more locusts
Kenya has deployed aircrafts to spray pesticides in several regions and its Agriculture Minister Peter Munya said on Monday that the invasion was "under control".
Meanwhile, Uganda has deployed soldiers to the northern regions to spray pesticides in the affected areas.
The locust swarms entered Africa from Yemen three months ago.
Affected Countries: Kenya, Somalia, Ethiopia, Eritrea, Djibouti, Tanzania, Uganda and South Sudan.