Dialogue for researchers and private sector identifies key Climate Smart Agriculture technologies for commercialization
GIANT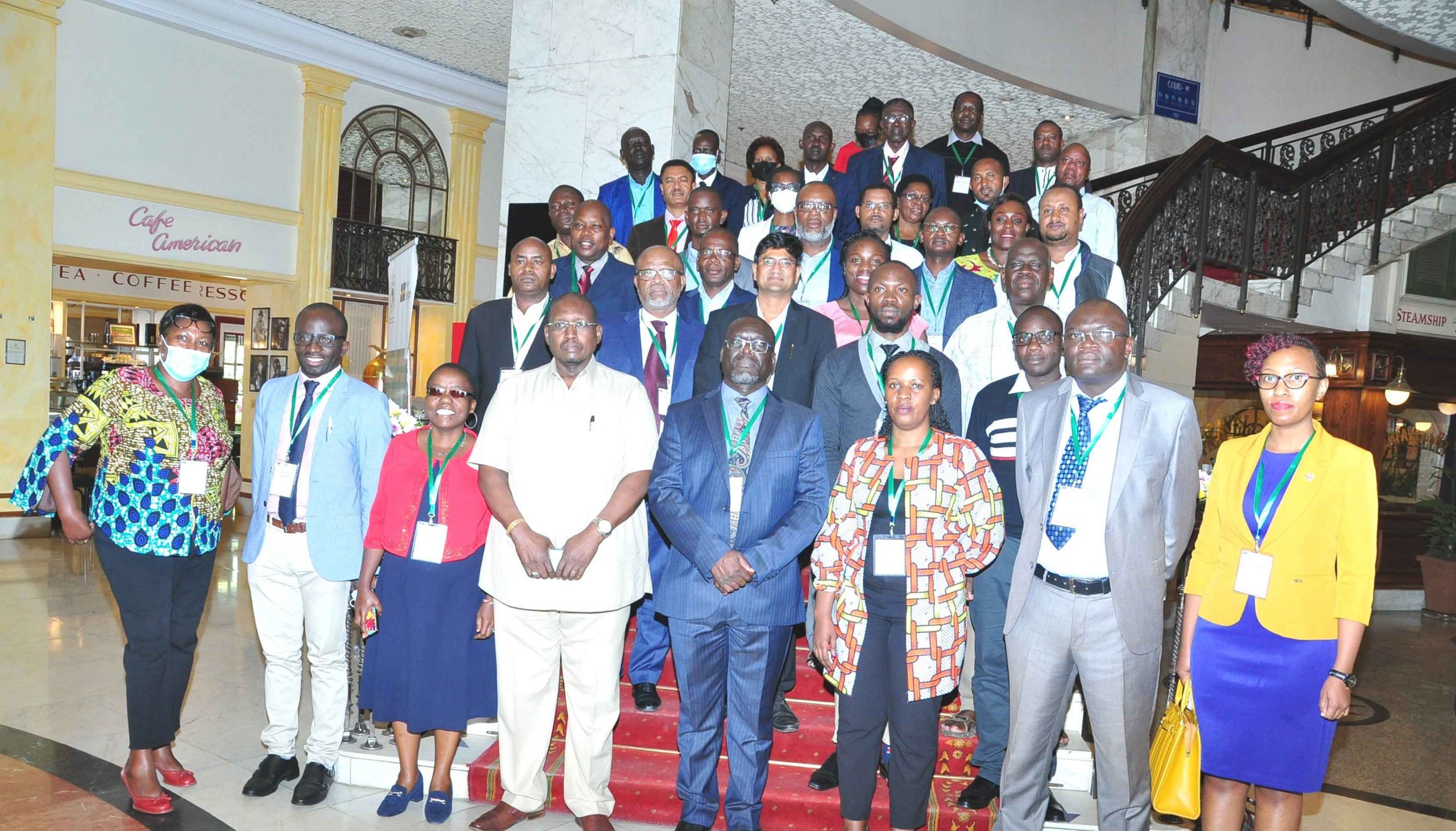 Despite the abundance of Technologies Innovations and Management Practices
 (TIMPs) in Eastern and Central Africa, adoption of the TIMPs is low
BEN MOSES ILAKUT—A broad range private sector actors, including small-holder farmers, foresters, livestock herders, fishermen, small and medium-sized enterprises (SMEs), large companies, and financial institutions are instrumental in commercializing agricultural Technologies, Innovations and Management Practices (TIMPs), researchers and private sector actors have been told.
Addressing participants during the Dialogue on Commercialization of Climate-Relevant Agricultural Technologies, Innovations and Management Practices in Eastern and Central Africa in Nairobi, Kenya, the Director General Kenya Agriculture and Livestock Research Organisation (KALRO), Dr. Eliud K. Kireger, said despite the abundance of TIMPs in Eastern and Central Africa, adoption of the TIMPs is low.
"The adoption of new TIMPs is a function of science, economics and human behaviour. The nexus between the farmer, researcher, the input suppliers, private sector, policy makers, the extension service providers and the markets, needs to be well understood and fixed," Dr. Kireger, who was the chief guest, said.
Dr. Kireger noted that while most countries in the region have taken initial steps to prioritize Climate Smart Agriculture (CSA) in their national agendas, much remains to be done across the region to ensure the successful implementation and monitoring of CSA initiatives.
"There is urgent need to develop new, inclusive policies which contribute to a more enabling environment for CSA uptake. Some of the measures aimed at increasing CSA uptake include input subsidy programs; tax incentives; streamlining land tenure and property rights; and payment for ecosystem services," Dr. Kireger said.
He explained that fiscal incentives and direct product subsidies such as import duty exemptions have increased farm mechanization in Kenya, while tax exemption on solar technology has spurred the growth of green energy.
Dr Kireger listed some of the TIMPs with a potential to make African agricultural systems more climate-smart. They include:  innovations that facilitate climate-smart production at the farm level for crop varieties, livestock, fish breeds, soil health, water, and energy management; products and services that improve value chains and the enabling environment for farmers and agribusinesses such as insurance, climate information services, agro-advisories, and access to credit and financial services.
Climate information, advice and market-data services have helped farmers to gain more understanding of their environment and markets, leading to better choices in land management practices and better marketing decisions.
There has been an increased demand for improved meteorological data, market data and advisory services in Eastern and Central Africa. For example, Kenya launched an electronic voucher subsidy programme which leverages agro-dealer networks as a more efficient distribution mechanism.
Addressing the delegates, ASARECA Executive Director, Dr. Enock Warinda, said by championing CSA initiatives in the region ASARECA is fulfilling the mandate of convening, coordinating and catalyzing the institutionalization of climate relevant AR4D work in the ECA region.
"ASARECA understands that agricultural transformation requires an integrated delivery approach across assorted partnerships with governments, development partners, the private sector and implementing partners in Member Countries," Dr. Warinda noted. "The private sector is a strategic partner offering innovative tools, resources, knowledge and technologies that are critical for transformation towards healthy and sustainable agri-food systems, protect the environment, and determine how we produce and consume our food."
He said ASARECA is keen on facilitating processes towards commercialization of TIMPs because commercialization brings new products and services to market through the production, distribution, marketing, sales, and customer support chains.
"Mobilizing the capacities and resources of the private sector is essential for achieving the SDGs. This is probably nowhere more evident than in the global agri-food systems, where the private sector plays such an important role," Dr. Warinda noted.
On her part, the Private Sector representative on the ASARECA Board of Directors, Ms Regina Kayitesi highlighted that no sustainable development, poverty reduction can take place without the participation of the private sector
"Mutual engagement by the public sector, agriculture value chain stakeholders, including researchers, farmers and consumers provides the potential to leverage resources for sustainable economic development," said Kayitesi. "The private sector plays various roles that are in the best interest of farmers including advocacy for simplification of standards for the small holder farmers, providing training to farmers, promoting uptake of TIMPs, and ensuring a proactive approach to access of TIMPs."
Specifically, the workshop on commercialization of TIMPs was aimed at identifying and documenting the digital climate advisory capacity gaps among key stakeholders  in Eastern and Central Africa; facilitate dialogue between policy makers and private sector partners to enhance integration of national e-extension system for widespread dissemination;  identify and document the best-bet climate smart priority agricultural TIMPs with regional importance for commercialization and scaling; agree on strategies to commercialize; and scale-out prioritized TIMPs.
The Dialogue was convened by ASARECA in collaboration with KALRO and the Accelerating Impacts of CGIAR Climate Research for Africa (AICCRA) Project in partnership with the Alliance of Bioversity International and CIAT.  The AICCRA Project is meant to strengthen the technical, institutional, and human capacity needed to enhance transfer of climate-relevant information, decision-making tools, and technologies in support of scaling efforts in Africa.
The workshop was financed mainly through the Comprehensive Africa Agriculture Development Programme ex-pillar IV (CAADP-XP4). The CAAD-PXP4 Programme is supported by the European Union as part of the Development Smart Innovation through Research in Agriculture (DeSIRA) initiative. Of specific interest to the workshop, the CAADP-XP4 Programme aims at developing strategies for engaging with the private sector and designing mechanisms for its operationalization.  The fund is managed by IFAD.
Target Participants
The dialogue targeted private sector, farmer organizations, policy makers, extension workers, climate scientists, research organizations and media from ASARECA's 14 member states namely: Uganda, Kenya, Tanzania, Rwanda, Burundi, Ethiopia, Eritrea, South Sudan, Sudan, Central African Republic, Republic of Congo, Cameroon, Madagascar, and Democratic Republic of Congo.