Kenya's Prime Cabinet Secretary Meets ASARECA Board Vice Chair and ASARECA Executive Director
GIANT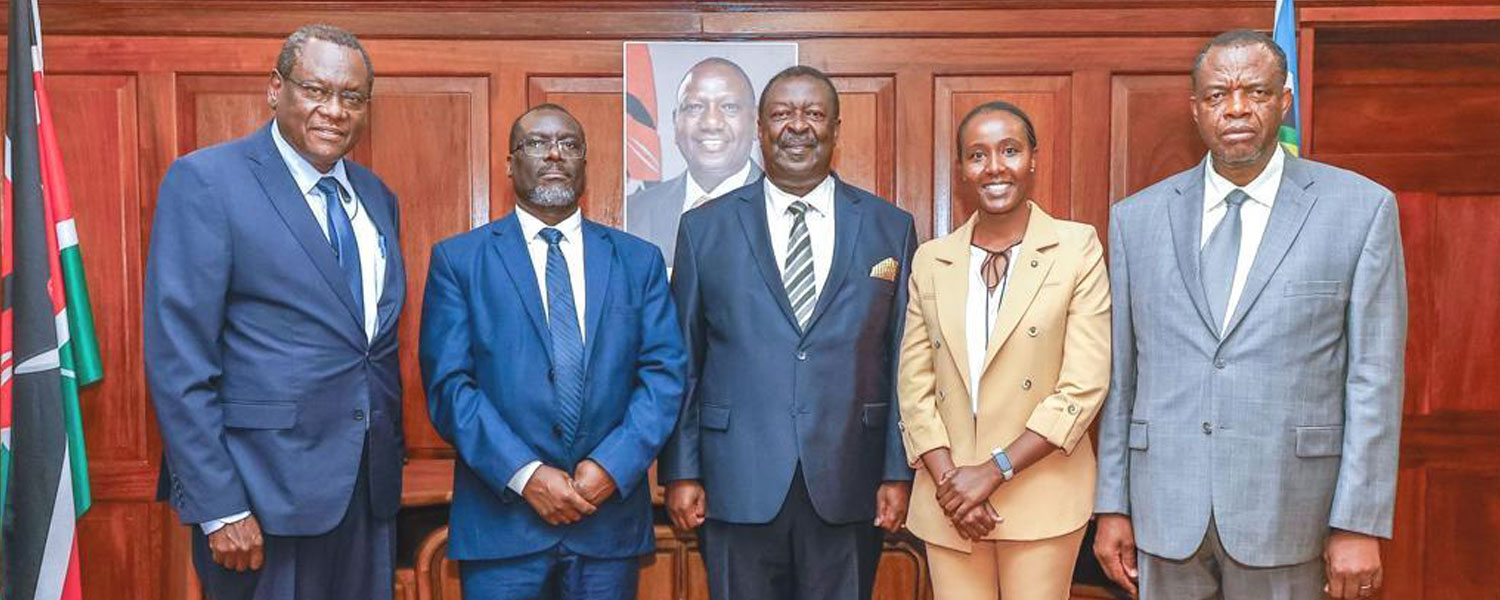 NAIROBI, KENYA:  ASARECA Board of Directors Vice Chairman, Ambassador Dr. Kipyego Cheluget and ASARECA Executive Director, Dr. Enock Warinda held discussions with Kenya's Prime Cabinet Secretary, His Excellency Wycliffe Musalia Mudavadi.
H.E Mudavadi, who is also the Minister of Foreign and Diaspora Affairs, met the ASARECA delegation on November 8 in Kenya's capital, Nairobi.
Among key important issues, the meeting focused on the role of ASARECA, working with its Member States, in enhancing food security and agricultural transformation in the Eastern and Central African region. They agreed that pursuing a comprehensive Food Systems approach was the way to go in addressing the whole range of challenges and bottlenecks in the food value chains.
They also discussed mechanisms of ensuring that Kenya increases its support to ASARECA's engagement with Agriculture line Ministers and other Associated Ministries from the 15 Member States; how to actively engage with Kenya's Cabinet Secretary for Agriculture and Livestock Development to increase ASARECA's involvement in spearheading efforts towards sustainable food systems; and how to enhance payment of Kenya's membership fees arrears to the Association.
H.E Mudavadi pledged to follow up on agreed actions to support ASARECA as it chats a path towards self-sustainability.
Kenya is one of the original 10 founding Member States of ASARECA alongside Burundi, Democratic Republic of Congo, Eritrea, Ethiopia, Kenya, Madagascar, Rwanda, Sudan, Tanzania, and Uganda. They have in the recent past been joined by South Sudan, Republic of the Congo, Central African Republic, Cameroon, and Somalia, bringing the total membership to 15.
In Kenya, since inception, ASARECA has been working mainly with the Ministry of Agriculture, Kenya Agriculture and Livestock Research Organisation (KALRO), formerly Kenya Agricultural Research Institute (KARI); and universities (Kenyatta, Egerton, and Nairobi) among others.
Over the last 30 years, ASARECA has invested US$ 19.91 million to catalyse agricultural transformation in Kenya through key beneficiary projects.