Key message to African Extension professionals: 'Package Agriculture as 'a kool business'
GIANT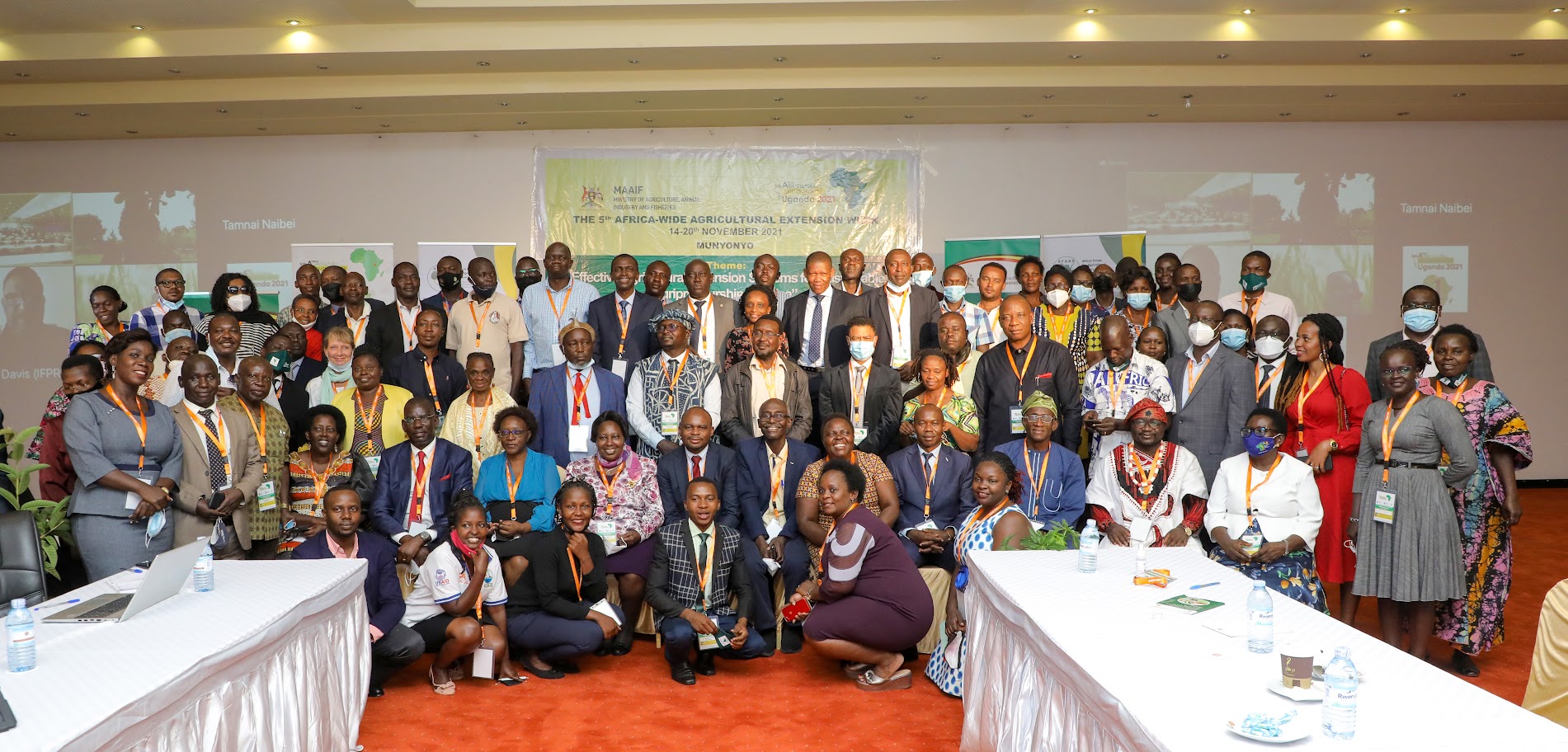 "Look at the content in YouTube, twitter, and tik-tok, where is agriculture in all this?—absent!"  "The extension system must therefore project agriculture as a smart and kool thing—that is what has to happen if the youth, whom we are targeting, have to join agricultural value chains."
By Ben Moses Ilakut
KAMPALA, UGANDA: African governments have been urged to invest heavily in agriculture to make economic and security sense. In the same vein, agricultural extension experts and promoters have been advised to communicate agriculture the way it ought to be. These are some of the key points ASARECA picked during the ongoing Africa-Wide Agriculture Extension Week 2021 (AAEW2021), (Nov, 14-20).
Speaking on November 16th, 2021 during the opening of the Extension Week, Uganda's 2nd Deputy Prime Minister, the Rt. Hon. General Moses Ali, said effective agricultural extension systems should have initiatives that are aimed at addressing the disproportionate service delivery especially to the women and youth whose livelihoods are worst hit in times of severe shocks.
"Africa must rapidly invest in agro-industry, and export processed products such as value added coffee, and finished textiles—and not coffee seeds and cotton lint," said Gen. Ali, who was the chief Guest at the week-long activity in Kampala, Uganda. He emphasized that Agricultural Extension plays a critical role in boosting productivity, food and income security as well as in preparing smallholder farmers for supermarkets as consumers heighten the demand for quality standards.
Two-pronged perspective
The event was also graced by Uganda's Minister of Agriculture Animal Industry and Fisheries (MAAIF), Hon. Frank Tumwebaze and the Permanent Secretary MAAIF Maj. Gen. David Kasura Kyomukama. Hon. Tumwebaze made the second key message by challenging agricultural extension system designers to adopt a two-pronged and functional perspective and practice in implementing Agricultural Extension: "First, I would like to task you to appropriately define what agricultural extension entails. In your definitions please consider the technical expertise, which includes a mix of traditional and technical innovations to come up with policy options to advise government on how to implement an extension system that truly serves our people," the Minister counseled.
Mainstreaming communication
"Secondly, I would like you to bring to life the component of communication and advocacy as part of the mainstream of Agricultural extension. This component is not receiving the attention it deserves," said the Minister.
Hon. Tumwebaze emphasized the need to pitch agriculture as an attractive venture targeting the youth. "Look at the content in YouTube, twitter, and tik-tok, where is agriculture in all this?—absent!"  he contended. "The extension system must therefore project agriculture as a smart and 'kool' thing—that is what has to happen if the youth, whom we are targeting, have to join agricultural value chains."
On his part, Uganda's Agriculture Permanent Secretary, Maj. Gen. David Kasura Kyomukama, highlighted that Agriculture extension remains the heart and soul of the Agricultural sector. "No country can develop without developing this sector.
Annual event
AFAAS Executive Director, Dr. Silim Nahdy said, the Africa-Wide Agriculture Extension Week is an annual event of the African Forum for Agricultural Advisory Services (AFAAS). This years' event was hosted by the Ministry of Agriculture Animal Industry and Fisheries (MAAIF) of the Republic of Uganda, in partnership with the Uganda Forum for Agricultural Advisory Services (UFAAS).
ASARECA is a key partner of AFAAS, and identifies with all the Extension weeks because all the 14 ASARECA member countries are part of the AFAAS country nodes.  Besides, ASARECA and AFAAS are currently implementing the Comprehensive Africa Agricultural Productivity Programme- Ex- Pillar IV (CAADP-XP4) Programme. CAADP-XP4 is an initiative of the EU under the DeSIRA initiative aimed at strengthening capacities of African A4D institutions for food and nutrition Security.
A platform for knowledge sharing
Commenting on the significance of the Africa-Wide Agriculture Extension Week 2021 (AAEW2021), ASARECA Interim Executive Director, Dr. Enock Warinda noted: "The 5th Africa Wide Agricultural Extension Week is an important fixture in Agricultural Research for Development (AR4D) discourse because it provides  a platform for the various stakeholders in AR4D to deliberate on strategic developments in the area of agricultural extension, as well as in isolating complimentary support services from associated sectors and sub-sectors such as water, livestock, environment, education and many others."
Dr. Warinda further stated: "The governments have mandated ASARECA to coordinate and convene researchers from the National Agricultural Research and Extension Services (NARES) of the member countries and other strategic development partners to generate, share and promote knowledge and innovations to solve common challenges facing agriculture in the member countries. Extension and advisory services are a critical component in our work, which explains why ASARECA and AFAAS are sister institutions. We support the Extension week and look forward to collaboration in implementing agreed-to-actions."