Nile Basin Discourse and ASARECA target the water and food nexus
GIANT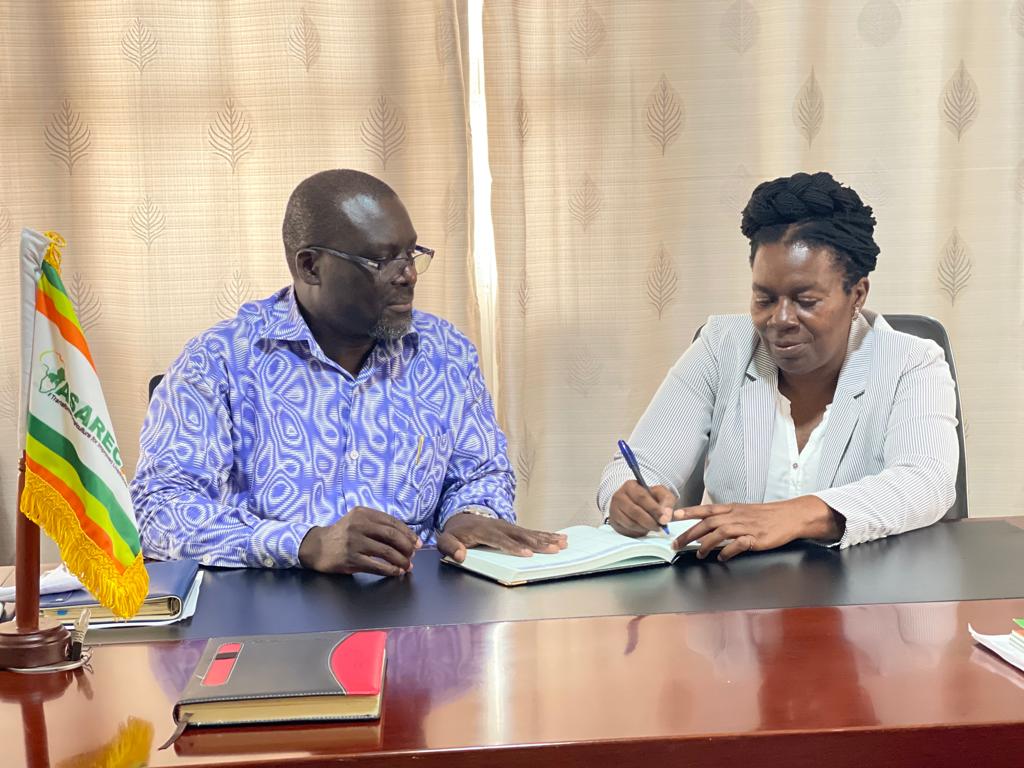 The structure in which NBD operates and coordinates with member countries is similar in many ways to the way ASARECA operates with its constituents
By Ben Moses Ilakut.
The Nile Basin Discourse (NBD) Regional Manager, Dr. Hellen Nabwala Natu, on November 19 paid a courtesy call on ASARECA Interim Executive Director, Dr. Enock Warinda at ASARECA Secretariat in Entebbe. The two chief executives reviewed the thematic areas and activities and identified areas of possible collaboration, especially in capacity strengthening and dissemination of technologies.
They specifically isolated the water and food nexus, which entails water, energy and food and nutrition security as an area of mutual interest.
Nine of the ASARECA 14 member countries are part of the Nile Riparian states.
Nile Basin Discourse (NBD) is a network of Civil Society organization established in 2003 to strengthen civil society participation in Nile Basin development processes, projects, programs and policies. The NBD has evolved into an independent network of over 600 member organizations throughout the Nile Basin.
The structure in which NBD operates and coordinates with member countries is similar in many ways to the way ASARECA operates with its constituents thus:
The NBD Member organizations are local and national CSOs/NGOs working on a range of issues relevant to Nile cooperation; including environmental conservation, agriculture, energy, gender equity, livelihoods, poverty reduction, and others. The CSOs/NGOs are members of chapters at national level referred to as Nile Discourse Forums (NDFs) established in each of the eleven riparian states. The NDFs in turn form the NBD Network, coordinated by a regional Secretariat based in Entebbe, Uganda.
On the other hand, the Association for Strengthening Agricultural Research in Eastern and Central Africa (ASARECA) is a not-for-profit sub-regional organization of the National Agriculture Research Systems of fourteen countries namely: Burundi, Cameroun, Central African Republic, Democratic Republic of Congo, Eritrea, Ethiopia, Madagascar, Kenya, Republic of Congo, Rwanda, Sudan, South Sudan, Tanzania, and Uganda. ASARECA is mandated to coordinate and convene human, physical, financial and institutional capital to implement Agricultural Research for Development (AR4D) initiatives in Eastern and Central Africa (ECA).
ASARECA functions mainly though the National Agricultural Research Institutions and their entire network. Besides, ASARECA has National Focal Persons designated to coordinate ASARECA activities in the country and report to the Directors General of the NARI and ASARECA.
NBD's networking approach has provided a mechanism for coordinated action and has added value to the work of the Nile Basin Initiative (NBI) and other key development partners. The NBI is a major intergovernmental process driving forward joint sustainable development and resources management within the Nile basin. Given interest in corporation between ASARECA and NBI, it is logical to pursue a similar collaboration with NBD.