Rwanda Agriculture Minister, ASARECA Executive Director Discuss Sustainable Financing of ASARECA
GIANT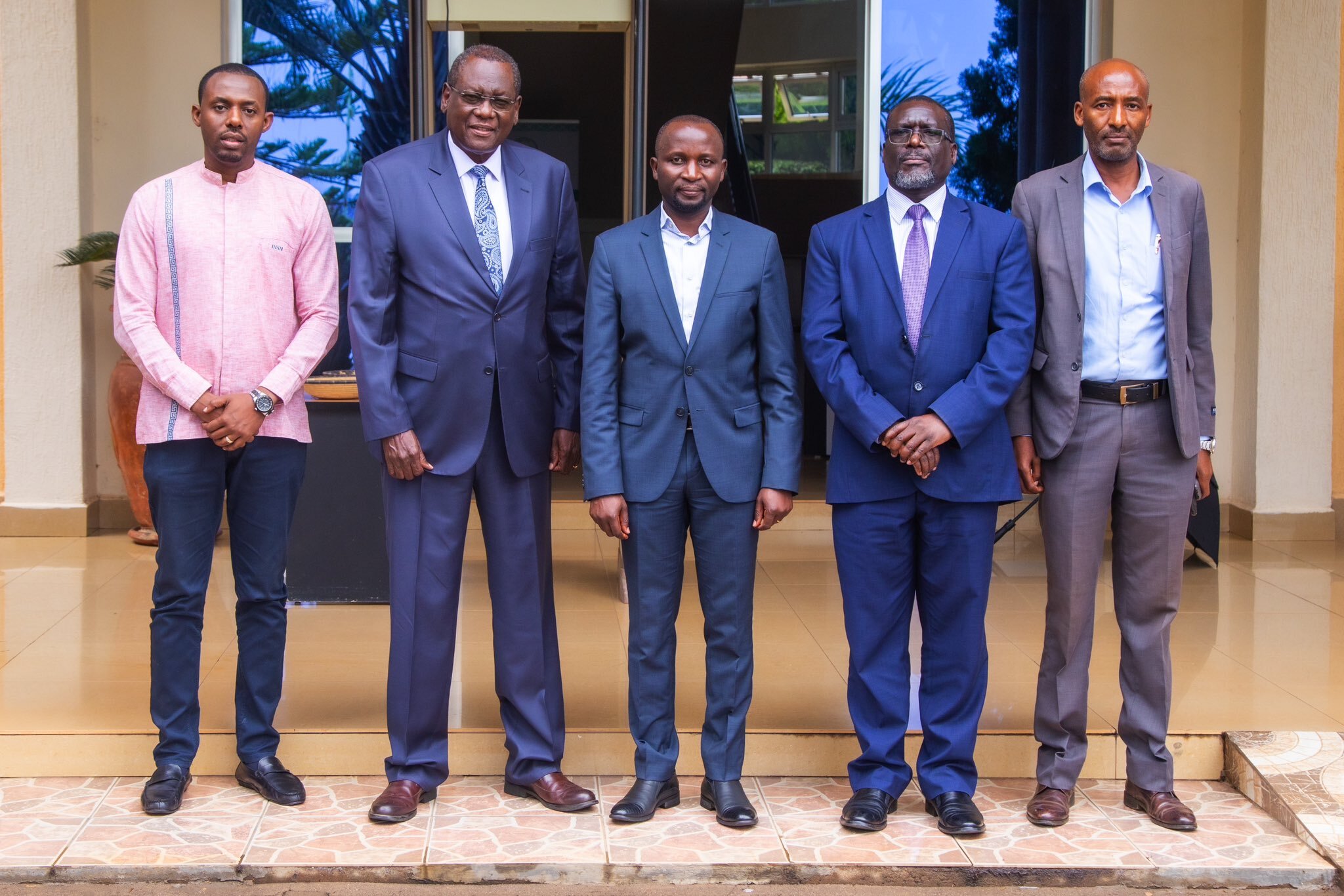 BY BEN MOSES ILAKUT
ASARECA Executive Director, Dr. Enock Warinda on October 11, 2023 held discussions with the Minister of Agriculture and Animal Resources, Rwanda Hon. Dr. Ildephonse Musafiri at the Ministry of Agriculture in Kigali Rwanda.
The Minister was flanked by the Chief Technical Advisor, Ministry of Agriculture and Animal Resources, Mr. Eric Gatera Iyeze; and Dr. Vickky Ruganzu, the National Focal Person for ASARECA in Rwanda.
Dr. Warinda was accompanied by Ambassador Kipyego Cheluget, the Vice- Chairman ASARECA Board of Directors.
The talks centred around mechanisms for ensuring financial sustainability of ASARECA. Specifically, they discussed mechanisms of enhancing the role of the 15-member ASARECA Council of Patron Ministers by creating an environment for enhanced partnerships with potential Development Partners in a bid to mobilise financial resources for the Association.
Relatedly, they also discussed progress in ongoing efforts to recover arrears in membership contributions to the Association. This was a follow up of Resolutions of the Council of Patron Ministers during the ASARECA Agriculture Ministerial Conference in May 2023 in which all Member States were urged to clear their arrears between September 2023 and March 2024.
Hon. Dr. Musafiri pledged to clear outstanding arrears, regularise payment of membership fees and reach out to key Development Partners engaged in Agricultural Research for Development in the Continent.
The discussions also hinged on the mooted inward-and outward looking regional projects based on the concept of Centres of Excellence and specialisation. Rwanda is interested in scaling innovations in land husbandry nationally and regionally as a Centre of Excellence, having initiated noble practices aimed at optimising the utilisation of land resources.
Other priorities for Rwanda articulated through the Director General Rwanda Agricultural and Animal Resources Board, Dr Telesphore Ndabamenye, included capacity strengthening of researchers, facilitation of market access, and support in seed access and transfer of germplasm,
They also deliberated on the role of the Agriculture Ministers and the National Agricultural Research Institutes in streamlining the initiatives by multiple bilateral partners, including the CGIAR in Member countries. Specifically, they reiterated the position earlier taken by the ASARECA Agriculture Ministers during their May 2023 conference in Entebbe, Uganda, to strengthen ASAREC's role of coordinating all initiatives with multiple bilateral actors in the countries. This is meant to avoid publication, wastage of resources while maximising economies of scale.
They also discussed establishing annual awards for exemplary scientists and value chain actors on the continent.