Rwanda hosts first meeting of ASARECA Climate Smart Agriculture Steering Committee
GIANT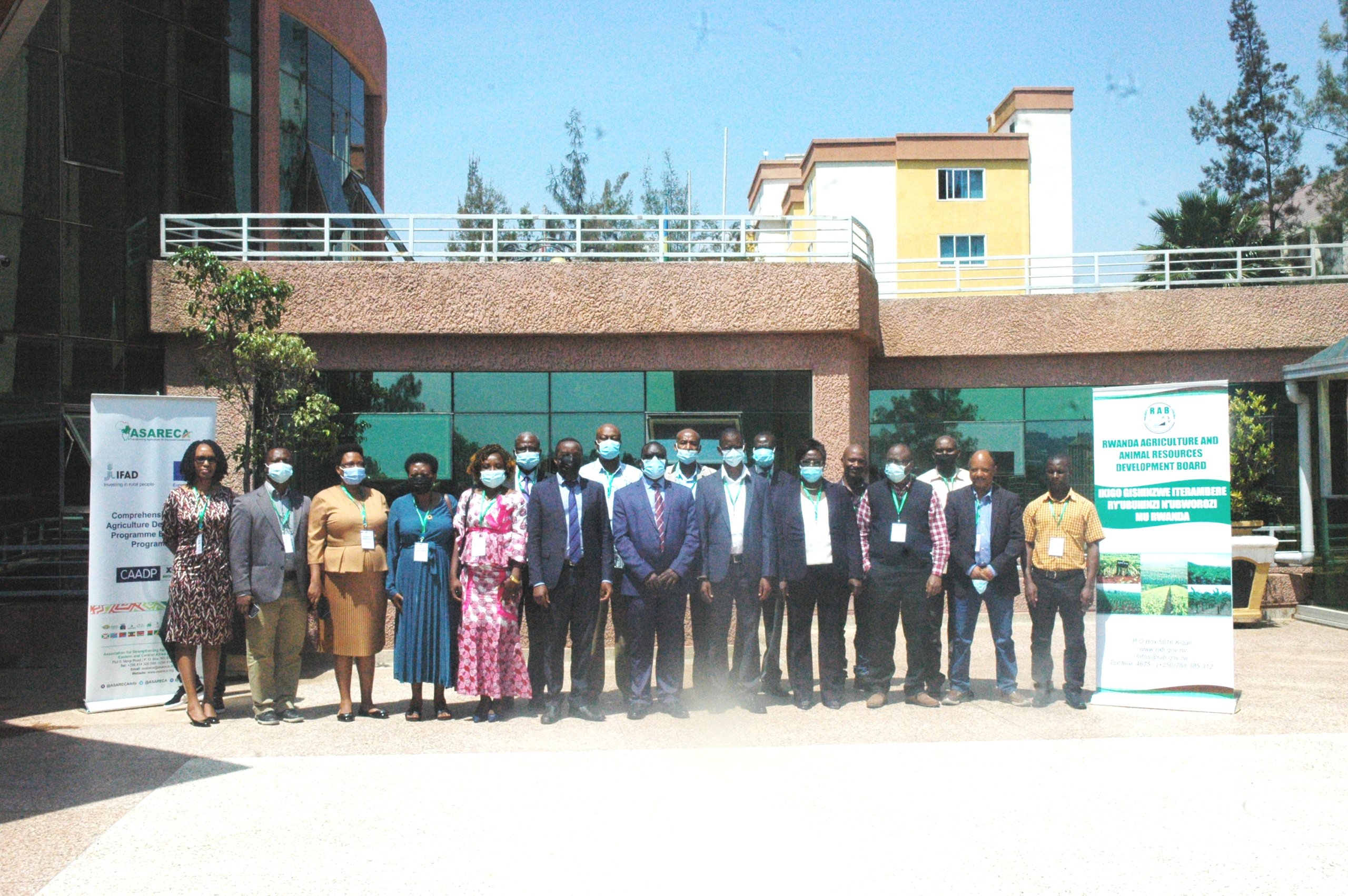 "I would like to commend ASARECA for bringing together diverse stakeholders engaged in various CSA initiatives in the region. By doing this, ASARECA is fulfilling the mandate we the NARIs gave them- the mandate of convening, coordinating, and catalyzing institutionalization of climate-relevant AR4D work in ECA region," Dr. Karangwa
By Genevieve Apio
KIGALI, RWANDA: The ASARECA Climate Smart Agriculture Alliance (ACSAA) held its first formal Steering Committee meeting in Rwanda's capital, Kigali from 1st– 2nd March 2022, with researchers being challenged to have smallholder farmers at the back of their minds when designing and implementing Climate Smart Agriculture (CSA) interventions.
The meeting was hosted by Rwanda Agriculture and Animal Resources Development Board (RAB) in collaboration with ASARECA Secretariat.
The ACSAA is a sub-regionally coordinated umbrella body designated by ASARECA Member States to coordinate and convene joint action by the fourteen (14) Member States on CSA technologies, innovations and best practices. The 14 Member States comprise: Burundi, Cameroon, Central African Republic, Democratic Republic of Congo, Eritrea, Ethiopia, Madagascar, Kenya, Republic of Congo, Rwanda, Sudan, South Sudan, Tanzania, and Uganda. The ACSAA was established in August 2021 during a regional CSA workshop that was attended by over78 participants from 55 organizations in the Eastern and Central Africa. The alliance is meant to harness complementariness and cut off duplication of efforts through coordination to enhance the adoption of CSA technologies in the region.
Dr. Karangwa (left) and Dr. Warinda in a debrief ahead of the ASARECA Climate Smart Agriculture meeting
Addressing participants during the opening the workshop, Dr. Patrick Karangwa, the Director-General of RAB said, Rwanda noted that the CSA Alliance is an asset that will make existing CSA technologies more beneficial to smallholder farmers that are currently being negatively impacted by climate change.
 "Climate change is real especially here in Rwanda where we are currently facing changing weather patterns. For instance, February used to be the hottest month with no rains, but now in the same month, we experience too much rain which sometimes leads to flooding. The rain season has become very unpredictable causing significant impacts on food security in a country with over 3.6 million people (66 to 67%) directly employed in the agricultural sector.
Dr. Karangwa also noted that there is a lot of potential to build synergies and learning from other countries to avoid duplication, and improve efficiency by shortening the time of delivering solutions to the smallholder farmers.
ASARECA Climate Smart Alliance during a session in Kigali, Rwanda
The Director General noted that RAB is one of the 10 NARIs that founded ASARECA in 1994. Dr. Karangwa said ASARECA in partnership with RAB and other AR4D institutions in Rwanda have jointly implemented several projects in Rwanda that have resulted into several outputs.
"I would like to commend ASARECA for bring together diverse stakeholders engaged in in various CSA initiatives in the region. By doing this, ASARECA is fulfilling the mandate we the NARIs gave them- the mandate of convening, coordinating, and catalyzing institutionalization of climate-relevant AR4D work in ECA region," Dr. Karangwa said.
In his welcome remarks the Executive Director of ASARECA, Dr. Enock Warinda, said that the ACSAA steering committee is meant to bring together several stakeholders including climate change scientists, policymakers, private sector players, and farmers, to scan the environment and provide leadership in addressing emerging CSA issues in the region.
"ACSAA will serve as a voice of 14 countries on climate change and this gives the ACSAA a strong bargaining power in mobilizing resources to address the negative effects brought about climatic change.   It also makes it easier to achieve and report the impact of the NARIs and ASARECA interventions on farmer's livelihoods," Dr. Warinda noted.
The meeting targeted CSA experts from the NARIs and Ministries of Agriculture from the 14 ASARECA member states. The participants among other things discussed mechanisms for tracking national CSA initiatives as well as joint activities.