Goal
The ASARECA Partnerships and Capacity Development (PCD) Community of Practice (CoP) was formed to enhance sharing of knowledge and information on partnerships and capacity development opportunities among members. It consists of researchers, private sector, farmers, policy makers, extension workers, academia, and other agriculture professionals from the 15 ASARECA Member States. This Platform was formed in 2023, and currently has over 100 active members.
This Platform was formed to coordinate the following:
Rationale
ASARECA believes that by enhancing the ability of individuals, groups, organisations, and systems engaged in the push for agricultural transformation through strong and effective partnerships, it will effectively deliver on improved livelihoods of smallholder farmers, strengthen sustained economic growth, and mainstream inclusive development. Its capacity development agenda is driven by the following aspirations:
Mission
Our mission is to develop human capital and institutions required for inclusive and sustainable development in Eastern and Central Africa.
Membership
Currently, this Platform has over 100 members drawn from the following categories of institutions: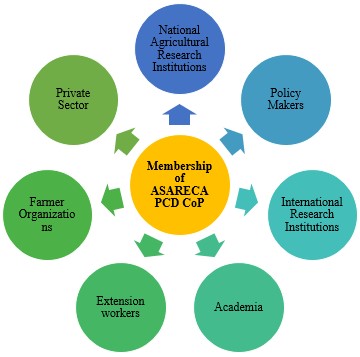 Membership Fees and Funding
Currently membership to this platform is free. However, associated platform activities are currently financed by the European Union through the Comprehensive Africa Agriculture Development Programme CAADP ex-pillar IV (CAADP-XP4) project as part of the grant awarded to ASARECA, AFAAS, CCARDESA, FARA and CORAF.
Further information on membership is available from
ASARECA Secretariat
Plot 5, Mpigi Road
P.O. Box 765, Entebbe, Uganda.